matejkav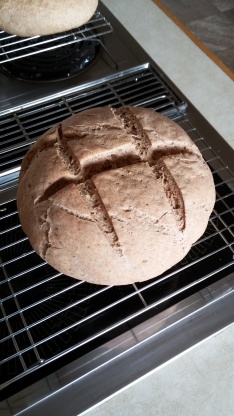 This bread is a combination of two recipes. One from Williams-Sonoma (which took around 8 hours to rise and didn't turn out so well for me) and an Italian herb bread from s'kat. I like how this version turned out very light and airy and aromatic. I used rosemary from my garden and think the lemon really brings out the flavors. * I threw all of the ingredients in my KitchenAid mixer, gradually adding the flour last. * I let my oven warm at 400 deg. for 1 minute then turned it off and put my covered bread in to rise. This really does the trick!

A very easy to make recipe, though I added a bit more rosemary and added a Tbsp of lemon zest. I thought the flavor was to weak the way it originally was.<br/><br/>I found this to be a very adaptive bread recipe. I've changed a lot of the flavorings and most often just do lemon and rosemary (I also use organic whole wheat flour). The bread also works wonderfully as a standard sandwich bread. It is heavy, but soft and chews lightly. It also doesn't fall apart easily.<br/><br/>For you gluten-free people, I've also had success with replacing the wheat flour with spelt or a mix of brown-rice flour, potato starch, and sorghum flour. Rises very nicely.
Mix yeast, warm water and sugar together in a large bowl. Set aside for five minutes, or until mixture becomes foamy.
Stir in olive oil, lemon, salt, rosemary, garlic, onion, cheese and 3 cups flour into the yeast mixture.
Gradually mix in next three cups of flour. (Dough will be stiff). Knead for 5 to 10 minutes, or until it is smooth and elastic.
Place in an oiled bowl, turning to cover sides with oil. Cover with a towel, or plastic wrap. Let rise for 1 hour, or until dough has doubled.
Punch down to release all the air. Shape into a ball. Place in a greased ceramic stoneware, or into two 9x5 inch, greased pans.
Allow to rise for 1/2 hour again, until doubled in a warm place.
Bake at 350 degrees for 2 loaves, 30 minutes, for one loaf, 40 minutes.
Remove loaves from pans and let cool on wire racks for at least 15 minutes, before slicing.