Rosemary and Garlic Monkey Bread
Calee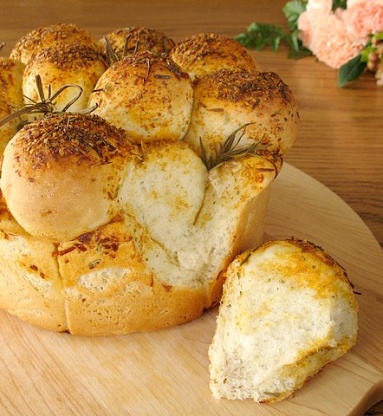 More than just delicious, this savory version of the traditionally sweet pull-apart bread also has a dramatic presentation! Prep time includes rising time.

Top Review by Calee
I think this should get *TEN* stars its so easy to make and has tons of flavor. I used dried rosemary and 2 cloves of garlic and only 5 cups of the flour. For the crumb topping I was a bit nervous about the wheat germ and only added 1-1/2 tbsp and it seemed just right for us. Love the paprika. I did insert fresh rosemary (5) sprigs. Mine baked up nicely in 45 minutes. Made for the FLOUR challenge in the cooking photo forum. Thanks Sharon for a recipe that will be made and enjoyed many times again.
In large bowl of heavy-duty electric mixer, combine 2 cups flour, the sugar, and yeast.
Beat water into flour mixture until soft dough forms.
Cover and set aside 20 minutes.
Meanwhile, prepare Crumb Topping (see below).
Lightly grease a 2 1/2-quart souffle dish (casserole dish).
Place oil in small bowl.
Add 3 cups remaining flour, the rosemary,garlic, and salt to the soft dough.
Beat until smooth dough forms.
Turn dough out onto floured surface.
Knead dough, adding remining flour as necessary, until smooth and elastic-about 5 minutes.
Divide dough into 24 pieces.
Dip each dough piece into oil and roll into a ball.
Dip each ball into Crumb Topping and place, crumb side up, in greased dish.
Cover loosely with clean cloth and let rise in warm place until double in size- about 45 minutes.
Heat oven to 350*F.
Tuck tiny rosemary sprigs between dough balls, if desired, and bake 55 to 60 minutes or until golden brown and bread sounds hollow when tapped on top.
Cool on wire rack 10 minutes; remove from dish and cool completely.
To serve, pull balls apart.
Crumb Topping: In cup, combine 1/4 cup grated Parmesan cheese, 3 tbls.
wheat germ, 1 tbls.
rosemary leaves, and 1 teaspoons.
paprika.