Rosemary and Garlic Chicken and Potatoes
ImPat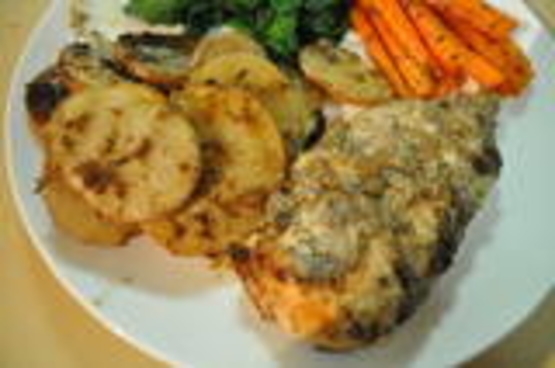 I was inspired to make it by a dish I had in Italy. If you don't love rosemary, reduce the quantity. It has a strong rosemary flavor because we love it.

This tasted good on the potatoes, however the chicken was rather bland. Neither of my kids liked the rosemary, and I thought it was a bit too much. The potatoes crisped up nicely and My DS ate a ton of them. I made this for everyday tag.
Preheat oven to 375°F.
Slice up the potatoes thickly.
In a medium sized bowl, mix spices, oil, and garlic.
Put the potatoes in the mix and toss/stir until completely coated.
Line the bottom of a 13 x 9" glass dish with the potatoes.
Put the chicken in the sauce and coat. Place on top of the potatoes, with a few potatoes on top of each.
Bake for 1 hour in the preheated oven, uncovered.
Baste during the last 15 minutes, if needed.