Anselma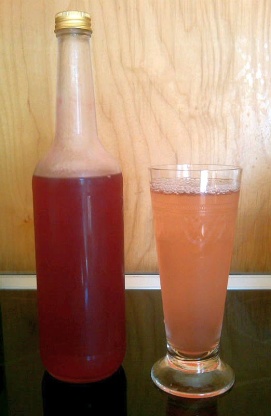 I had too much fresh thyme left and didn't know what to do. So after I had made all different kinds of syrups all day, I thought whether a syrup could be made out of thyme and had the idea that thyme would taste great with roses. As I am half-Iranian - I have never seen an Iranian who really measures ;) - I just went along with the ingredients I still had left, but to create a recipe, I actually did measure what I used ;) Regarding the rock sugar I used 2 pieces of saffron-rock sugar, each of the size of a lychee. And the reason why I used gelling sugar was that I had not enough normal sugar left, so you may try the recipe using more normal sugar instead of the gelling sugar :)
700

ml water

100

g demerara sugar

190

g gelling sugar

8

g vanilla sugar

10

g citric acid
dried rose petals (3 handfuls)

17

g fresh thyme

2

rock sugar (optional)
Bring the water, (gelling) sugar and dried rose petals to boil and let simmer for a few minutes on low heat, add the vanilla sugar and citric acid and stir repeatedly.
Then add the fresh thyme and let stand for about 25 minutes. Depending on the desired intensity, you can steep the thyme longer, but if you let it steep for too long, then the sirup could get too acerbic.
If the syrup is to sour for you, then add the rock sugar.