Rose Scented Geranium Lemonade
awalde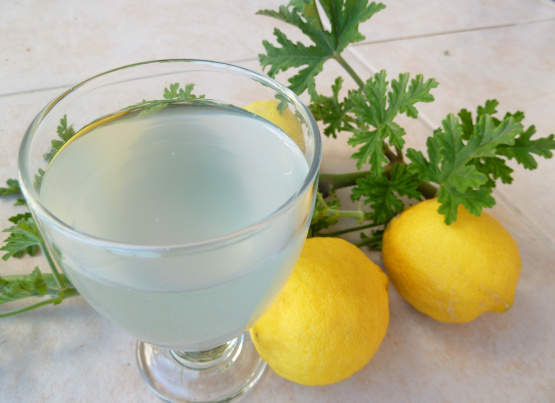 A wonderful delicate lemonade! There are at least 150 different varieties of scented pelargonium (commonly known as scented geraniums), including mint, rose, apple, apricot, nutmeg, lemon, orange, lime, ginger, cinnamon and coconut, to name a few. Species of Pelargonium are evergreen perennials indigenous to Southern Africa and are drought and heat tolerant, and can tolerate only minor frosts. For this lemonade I use rose scented pelargoniums leaves that I became from my friends in Crete (Greece).

Lovely! I had some lemons I needed to use up as they were getting too soft, and a hearty rose geranium plant downstairs and this seemed like a great way to go - and it was...I love the flavour of rose geranium in greek spoon sweets, and it is great in an iced beverage as well. Lemons here. No limes. Thanks.
In a small pot boil water with sugar.
Remove from heat, add leaves and let infuse until cold (if possible let stand overnight).
Squeeze out leaves well (you can repeat this step for more flavor).
Add lemon or lime juice.
Pour it into bottle and refrigerate.
To serve, add 1 tablespoon of this concentrate to each cup of chilled water and mix well.
Serve over ice in a goblet garnished with a small scented geranium leaf of rose petals.
Store refrigerated for at least two weeks.