Rose's Light Nut and Dried Fruit Granola
Redsie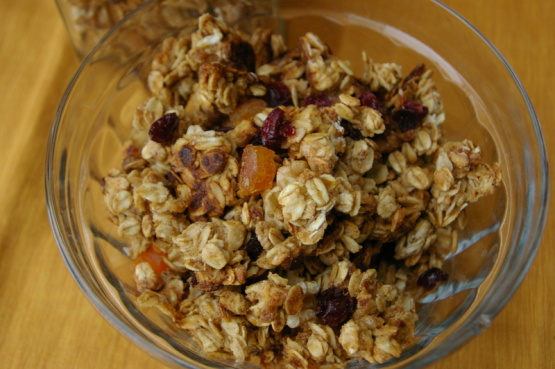 From Rose Reisman. "If you prefer to have dried fruit that is baked, add it to the granola mixture before it goes into the oven. It makes the fruit much chewier. If you want the granola crisper, leave it in the oven with the heat off for another two hours. Feel free to substitute any dried fruit of your choice."

Great granola, easy recipe, super flavor. I liked that it came together and made clusters. I used pecans and dried cranberries. Will try apricots and almonds next time. I think I baked it a little too long, it was a little dark and extra crunchy. Next time I will watch closer and reduce baking time.
Preheat oven to 300°F Line a baking sheet with aluminum foil and spray with vegetable spray.
Combine the oats, flour, sugar, cinnamon, ginger, oil, orange juice, maple syrup and nuts in a mixing bowl. Place on the prepared baking sheet and bake for 35 minutes, tossing once to prevent burning. Add the dried fruit.
Store in airtight containers for up to 1 month.