WiGal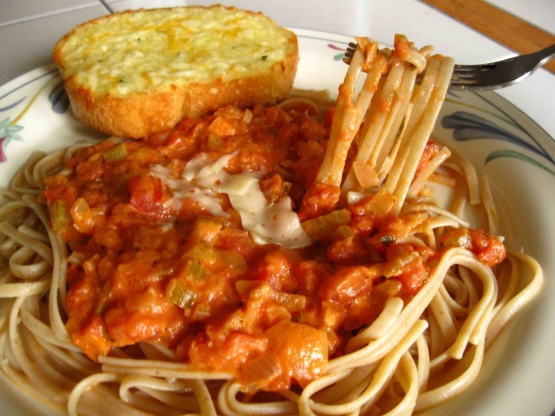 After eating Canneloni Genovese too many times at a local restaurant, a friend and I set out to recreate the Rosatella Sauce at home. Here is the basic sauce. that seems about as close as we can get. It's the best of a simple marinara sauce combined with alfredo sauce.

Top Review by WiGal
Hubby and I loved this vegetarian meal! What a great way to get carrots, and didn't mind the celery either. I used 1 teaspoon dried oregano and 1/2 cup grated parmesan-the directions don't match the ingredient list. I did have a problem here though -I did not have 62 ounces of crushed tomatoes in house (we live 16 miles from store) so used what I had on hand. 32 ounces of crushed tomatoes, some fresh tomatoes, and a 10 ounce can of Rotel tomatoes which had green chiles in them. Sigh such is life. I did try to spoon out most of the chiles but some still ended up in there-guessing about a teaspoon. Thank you VQ for sharing a keeper. Made for PAC Fall 2011.
In a large pot, heat the oil/butter over a medium-high flame.
Add the onions and garlic.
Sauté until the onions are translucent, about 10 minutes.
Add the celery, carrots, and 1/2 teaspoon of each salt and pepper.
Sauté until all the vegetables are soft, about 10 minutes.
Add the tomatoes, oregano, parsley and bay leaves, and simmer uncovered over low heat until the sauce thickens, about 1 hour.
Remove and discard the bay leaf.
Add heavy cream and bring to temperature.
Mix in parmesan cheese and stir until melted.
Season the sauce with more salt, pepper, parmesan cheese, to taste.
The sauce can be made 1 day ahead. Cool, then cover and refrigerate. Rewarm over medium heat before using.