Rosalita's Arepas Con Queso
IngridH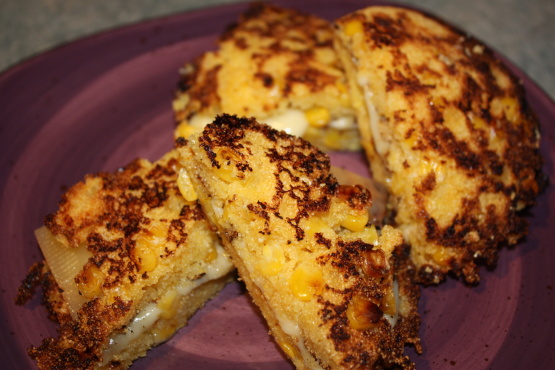 From the wonderful cookbook In Nirmala's Kitchen. Arepas can be sweet or savory. This recipe is a little of both.

These were yummy! I just wanted to add a little tidbit of information for everyone's edification. This is a Colombian arepa, which are sweet and taste pretty much like this. In Venezuela this would be something like a "cachapa." Venezuelans have arepas too, but they are not sweet and are made from precooked white cornmeal. These are by no means "Mexican" food as one commenter said. If you like "tex-mex" It's no wonder you didn't like them. Different continent. ;)
In a medium saucepan, bring the milk to a boil over high heat. (Watch closely so it doesn't boil over).
Remove from heat and let sit for a minute. Stir in the 3 tbs of butter and the buttermilk. Stir until the butter has completely melted. Let mixture sit for about 2 minutes.
Pulse the corn kernels in a food processor until just coarse.
In a large bowl combine corn, cornmeal, sugar, salt, and Monterey Jack cheese. Stir to combine.
Gradually add enough of the hot milk mixture to make a very thick batter.
Heat griddle or large skillet over medium high heat, and melt 1-2 tbs of butter until the foam subsides.
Drop about 2 tbs of batter into the skillet for each arepa. (They should be about 3 inches in diameter) Cook until underside is golden brown, about 4 minutes, then flip and brown other side.
When the arepas are cooked on both sides and the batter is cooked through, sandwich 1 slice of mozzarella cheese between 2 arepas. Reduce heat to low, and continue cooking just until the cheese melts, turning once or twice. Continue filling and cooking the remaining arepas.
Best served hot.