Sageca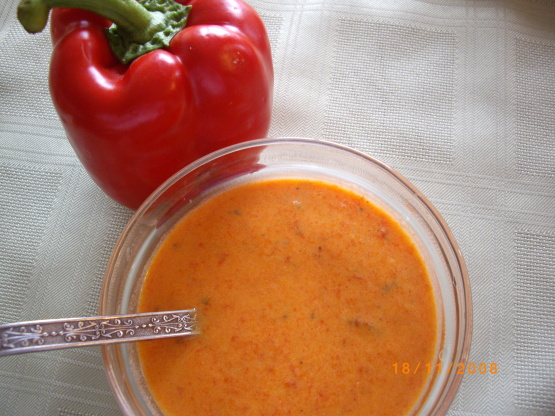 I made this wonderful sauce yesterday and served it with this special Ravioli stuffed with Blue cheese that I bought at the supermarket; fantastic meal. Dr Jenny has a similar recipe but I played around with it and came up with this rosé sauce with no tomatoes.
In saucepan sauté shallots and garlic until softened.
Add roasted red peppers and cook 2 minutes while stirring.
Stir in canned milk, chicken broth, salt and pepper.
Add herbs; I used fresh basil, parsley.
Simmer 5 minutes.
Remove from heat.
Puré using your hand blender.
Put your sauce back on low heat
Mix water and cornstarch and stir into sauce; simmer until thickened.
Stir in Parmesan cheese.
This sauce can be made the day before;stored in the refrigerator and heated in the microwave at 70 % for 5 minutes.
Toss hot sauce on your favourite pasta.
Have some freshly grated parmesan cheese on the table.