Bergy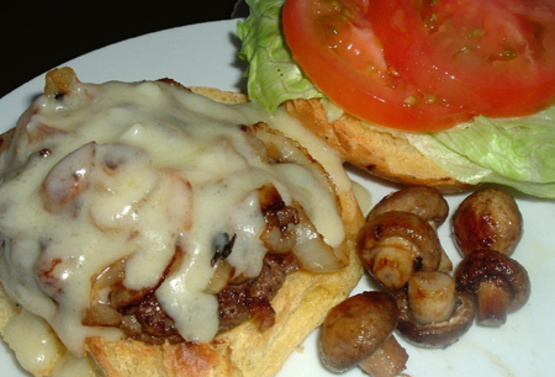 The delicious sauce really compliments the lamb. I like to serve this with a simple salad made up of halved cherry tomatoes, one or two sliced green onions and feta cheese tossed and drizzled with olive oil.

Top Review by Bergy
I would give this burger more than 5 stars - It is very delicious. The sauce is easy to make and tastes great - I mixed the sauce ingredients and placedit in a saucepan over the "warmer"burner for about 10 minutes. I used cottage cheese instead of sour cream and I cut the recipe back to 1 pattie. The sauce would compliment any burger - beef, chicken, turkey or a steak Thanks shelbyrose for a wonderful Saturday night burger
In a medium bowl, mix lamb, salt and pepper.
Shape into 6 patties.
Broil 3-4 inches from source of heat, approximately 3-5 minutes on each side (or until desired doneness).
In a small skillet, saute the onions in 3 tablespoons butter until soft.
Remove and keep warm.
In a small saucepan, mix together Roquefort, 1 tablespoon butter, parsley and flour.
Stir in sour cream.
Heat and stir 1-2 minutes, or until just warmed and slightly thickened.
To serve, place sauteed onions on lamb patties and spoon Roquefort sauce on top.