Root Vegetable Mash With Caramelized Onions
ladypit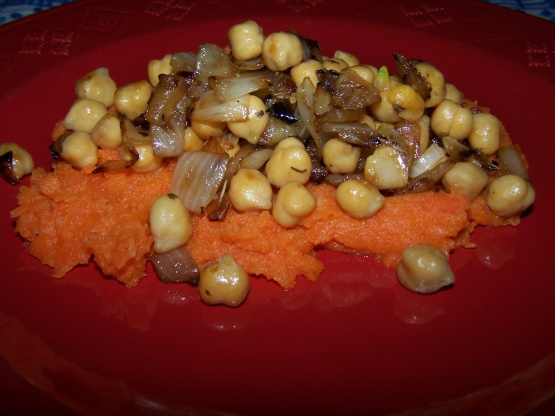 Needed to use some parsnips when I came upon this dish. Liked it enough that I thought it was worth sharing. You can treat this as a hearty side dish or a satisfying vegetarian meal.

This was a truly fabulous dinner. Even though I would do a few things a tad differently next time, this one is still really worthy of all five stars. I did everything as described, using a 1/2 tsp. splenda brown and using a 15.5 oz can of chickpeas. I actually used about three parsnips, but mine were tiny, and I used two smallish sweet onions. Next time I would use more onion; probably the equivalent of two large vidalias. The onions make this dish. Their flavor, along with the wonderfully flavored veggie mash, is awesome. The kids even said they thought the mash tasted buttery! Thanks for a keeper.
Prepare the carrots and parsnips for cooking and add to a large saucepan. (Though the original recipe called for peeled carrots, I prefer not to peel.) Add water to cover vegetables and bring the pot to a boil. Lower the heat and simmer for 10-15 minutes until the carrots and parsnips are tender.
While the carrots and parsnips are cooking, melt the butter in a nonstick skillet over medium-low heat. Add the onions and cook, stirring often until the onions ae cooked and a golden brown, about 6 to 8 minutes. If you are using the sugar, add now. Add the thyme. Reduce the heat to low and continue cooking another 6 minutes. If the pan seems too dry (onions are sticking), add a teaspoon of the cooking broth from the carrots and parsnips. Onions should be nicely browned and barely holding their shape.
Add drained chickpeas, to the onions and cook until warmed through, about 3 minutes.
Drain the carrots and parsnips, reserving 1/2 cup of the cooking liquid. Keep warm. Using an immersion blender, counter blender or food processor puree the carrots & parsnips with the salt, pepper and nutmeg and 1/3 cup of cooking liquid. If they are too thick for your tastes, add additional cooking liquid.
To assemble the dish, serve a portion of the carrots and parsnips mounding down a center. Place a portion of the onions and chickpeas in the center well. Alternately, you can serve family-style with a mound of the mash int he center with a ring of the onions and chickpeas around the outside.
(For WW: 5 points per serving on Flex; Core (w/o brown sugar) plus 1/2 point).