Kathy228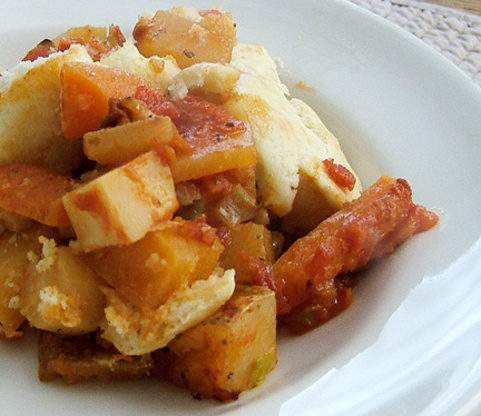 No, you don't eat this for dessert, it's a fantastic vegetarian main course or side dish.

This was very good. And easy to make. I added an onion. The carrots dominated. Next time I'll use one less. The rutabaga, potato and parsnips were wonderful; all the vegs. "went" together. I did not peel my potato. This seems like a main course to me. Just add a salad and you're good to go. Nice recipe Mirj.
Prepare the vegetables- peel and chop into 1 inch chunks.
Place the chopped tomatoes, crushed garlic, olive oil, and a teaspoon of oregano into a large saucepan.
Simmer gently for 5 minutes then add the chopped vegetables.
Simmer for 15 minutes.
Place in a large casserole dish, with the lentils, in oven on a medium heat (350 degrees F) for one hour.
Prepare the cobbler tops by rubbing the flour and a teaspoon of mixed herbs into the vegetable fat.
Mix to a stiff paste with some water and shape into balls.
Place on top of the casserole for 20 minutes or until browned.