Jand1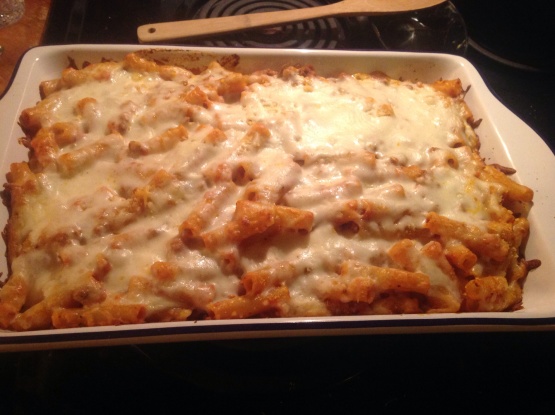 This is the classic back of the box recipe. I usually double the recipe and it still disappears! Make sure you use pasta with the ridges, this holds the sauce the best.

So easy and delicious! I used 1 lb. penne rigate, because that's what I had, and didn't change a thing in the recipe, making it with sausage. My favorite jar sauce is Paesana Marinara. It's an excellent base for any Italian dish requiring tomato sauce. I didn't have a 9x13 baking pan, so I substituted with a 5 qt dutch oven. Unless you like your pasta really soft, be sure to boil it only until it's al dente, because it will continue to cook in the oven. Thank you for a keepsake recipe!
Heat oven to 350°F.
Cook pasta.
In large skillet brown meat (if using) and drain. Add marinara and simmer for 10 minutes.
In a small bowl stir together ricotta, 1 cup mozzarella and seasonings.
Toss the cooked pasta with the sauce and add half of it to a 9x13 baking dish. Then spread the cheese mixture over the pasta.
Add the remaining pasta and top with mozzarella and parmesan.
Cover loosely with foil and bake for 25 minutes. Remove foil and bake another 5 minutes until hot and bubbly and cheese is golden brown.