Alskann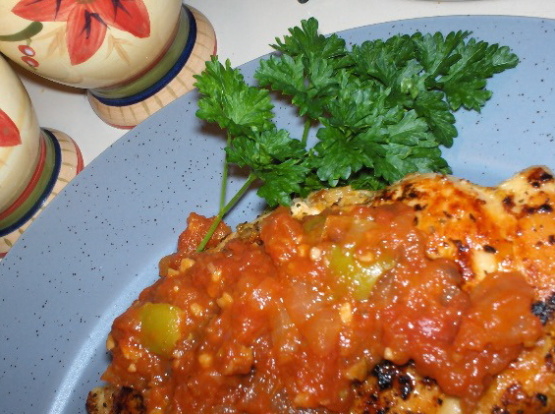 This recipe was a handout at my local Sam's Club this weekend. It tasted wonderful and the only sodium coming from the green olives. Top the dish off with some freshly shaved Parmesan cheese for a low, sodium, low fat meal. The wine pairing they suggest is a Chardonnay.

We loved this. Very flavorful and easy to make. And it fit nicely into my WW points. Easy to make, the only change I made was to use canned stewed tomatoes as good fresh ones are not plentiful in Alaska this time of year. I don't think it made a difference in the end result. I used my immersion blender to mix it all up, worked very well. We will be making this one again! Thanks!
Chop the tomatoes and red onion, add the olive oil to a saute pan, when warm add the chopped tomato, onions and garlic.
Cook until the vegetables are soft, put the mixture into a food processor; add the red wine vinegar and olives, pulse until blended but still maintains texture.
For the chicken, over medium high heat heat the 1 teaspoon olive oil in saute pan, season the chicken with seasoning blend and add to pan.
Saute the chicken for 3 to 4 minutes on each side or until internal temperature reaches 165 degrees.
Plate each breast and individual serving plates and top with about 2 tablespoon of the blended sauce mixture.
Serve with a green salad, fresh bread and wine for a delicious meal.