Diana 2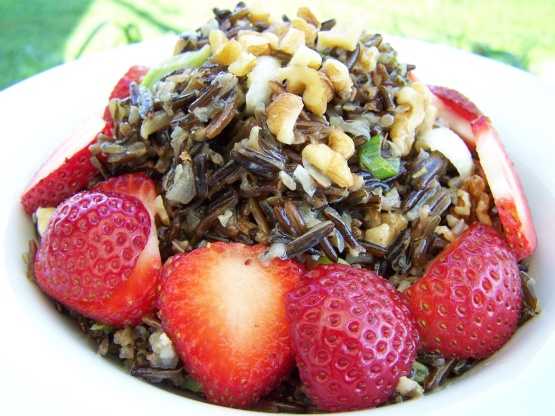 This is a sophisticated salad that's perfect for taking on a romantic picnic date in the park. Adjust the ingredients to your tastes and enjoy!

Made for Fall 09 PAC Orphange adoption. I doubled the recipe and used a ziplock put-away container to mold it into which worked wonderfully as it slipped out of the mold cleanly and nicely. I enjoyed the flavor and beauty of this recipe, and only wish I had someone to make it for a nice romantic picnic salad. I am adding this to my Salad Cookbook and will make again for a family gathering tripling the recipe, and adding just a touch more dijon for added flavor. Thank you for sharing this recipe. 11/12 Just a note, made this recipe up to serve at my daughters wedding dinner (see pic) So many people enjoyed this recipe and asked for it...of course I referred them to this site and gave them the recipe number...Way to go girl for a real winner!!!
Cook rice according to package directions. You could use chicken broth instead of water.
In a bowl whisk together vinegar, oil, mustard, honey, salt, pepper, garlic and terragon.
As soon as the rice is done, mix it with the dressing.
Fold in the scallions.
Chill in the refrigerator 30-60 minutes. This salad tastes great when it is not too cold.
Taste and adjust seasonings. Mix in half of the walnuts. Sprinkle rest on top. You could roast them first if you wanted.
Thinnly slice strawberries and arrange them on top.