Romantic Stuffed Chicken Breasts A-Deux
Redsie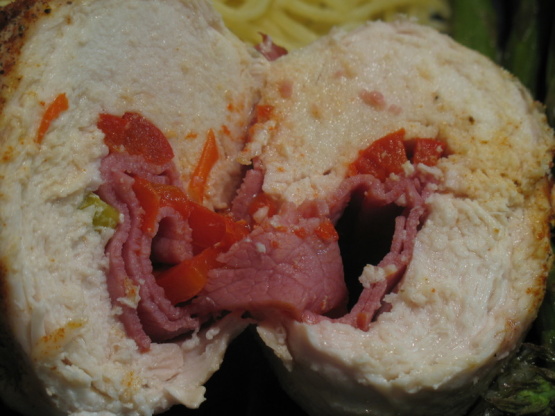 First, a little information: Sushiman and I have 8 kids together. A meal alone at home with just the two of us is usually a non-existant event. But last night the planets were aligned correctly, and it was just the two of us. We had originally planned to go out for a quick bite to eat, but I decided to take advantage of the privacy and cook us a romantic dinner. I had no idea what to make, but the inspiration just came to me while I was in the supermarket. This recipe is an original creation that evolved as I was making it last night. I'm so impressed with myself I just had to share it with you. The quantities here are just enough for two, but you can double (triple, quadruple) the ingredients for the amount of people you want to feed.
Top Review by Ilysse
Rather than rolling I took some thick chicken breasts and cut them almost in half lengthwise and opened them up like a book and layed the pastrami in the middle then closed it up like a sandwich. I didn't use the peppers. I followed the cooking time and temp. These were very good with a baked potato and broccoli and served with mustard for dipping the chicken in. Thanks for posting this. I needed to use up the pastrami and this was a good way to do it.
2

chicken breasts, deboned, pounded flat (individual portions, not a whole breast)

2

roasted red peppers (I got mine from a jar)

4

slices smoked pastrami (or smoked turkey) or 4 slices other smoked beef (or smoked turkey)
salt, to taste
fresh ground black pepper, to taste
sweet paprika, to taste

1

tablespoon oil, for the baking pan
Preheat your oven to 375 degrees F.
Pour a bit of oil in a small baking dish.
Lay out the two flattened chicken breasts.
Cut the roasted pepper lengthwise down the side so you can lay it flat on top of the chicken breast.
Place two slices of smoked meat on top of each roasted pepper.
Roll up the chicken breast, lay seam side down in the oiled baking dish.
Sprinkle with salt, pepper and paprika.
Bake uncovered for about 20-25 minutes.
Serve with a vegetable and a green salad on the side.