Romantic Chicken Mushroom Rollups
Kelly M.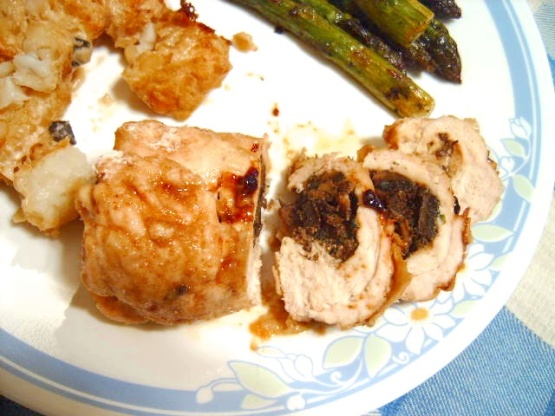 This dish would be wonderful as part of a romantic dinner for 2. Times listed are estimated. Entry for RSC #5.

This is the first time that I've used coriander in a recipe. BH and I decided that this dish was bland. I'll try this again but will add maybe onions and garlic.
Marinate chicken in wine for a minimum of ½ hour.
Then, remove the chicken from the marinade and pound it as flat as you can.
Preheat oven to 350 degrees.
Place butter and mushrooms in a frying pan.
Heat mushrooms thru.
Add cleaned, stemmed spinach, stir and cover.
Turn off heat.
Three minutes later, check the mushroom mixture and add some salt and 1 tbsp coriander, adjusting to taste.
Place ½ of mushroom mixture on one end of a flattened chicken breast.
Roll the chicken breast up.
Try to tuck in the ends.
Repeat with 2nd chicken breast.
On a plate, mix flour, 2 tbsp coriander and ¼ tsp salt.
Carefully dredge the chicken rolls in the flour mixture.
Brush off any excess flour.
Place the chicken in a small baking dish and bake for about 40 min, or until the chicken reaches an interior temperature of 188 degrees or juices stop running.
The outside of the rolls should by golden brown.
Slice carefully and arrange on a plate.
Serve with the remainder of the wine you chilled after using 3 c for a marinade, (you did chill it, didn't you?) a side of rice pilaf, and a small loaf of fresh brown bread with flavored butter.