Romano's Macaroni Grill Teriyaki Salmon With Spinach Orzo
Edna P.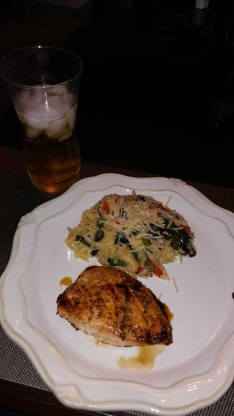 A teriyaki-kissed salmon with rice-sized pasta. Had this the first time in NC and always think of my dad when we have it. I found the recipe at WBIR-10 but some of the ingredients seemed off, so I adjusted them a bit.

Made the spinach orzo, and loved it. I'm a big fan of the original dish. I cooked my salmon by a different method than this recipe, but the pasta and fish went together well. I think the pasta makes a great side dish for just about anything.
~Salmon~.
Dip salmon in soy sauce, then the oil and place the salmon on hot grill silver side up.
Grill salmon evenly until done, approximately 6-7 minutes.
Ladle 2 oz teriyaki glaze over each salmon fillet while still on the grill.
~*Orzo*~.
Precook 8 ounces dry orzo. In a hot sauté pan, add olive oil and garlic, red bell peppers and hot precooked orzo. Sauté for approximately one minute. Sprinkle Parmesan cheese and stir.
Remove pan from heat and add spinach. Toss for approximately three seconds until spinach is incorporated but is not wilted.
Place spinach and orzo on plate, then add salmon and additional teriyaki glaze if desired.