Romano's Macaroni Grill Rosemary Bread
Diana Yen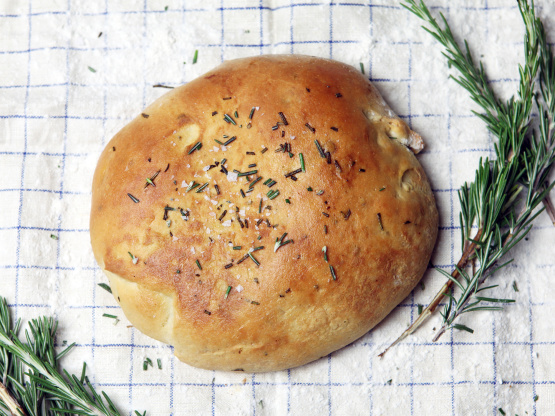 This is an attempt to immitate the excellent bread that is served in the Macaroni Grill Restaurant.

Top Review by Curlee
I made the dough in the bread machine by first warming the water and butter in the microwave for a minute then I added the dry ingrediants and put the yeast on top. Even though I accidently put both tablespoons of butter in the dough it still came out good. I used 2 3/4 cups of flour and only 2 teaspoons of the sugar. Shaped the loaves and let them rise and then used an egg wash (beaten egg yolk with a smidge of water to loosen) then just sprinkled with sea salt. I also put a pan of water on the bottom rack to help with the crust. Not sure if it made a difference or not. A keeper for sure. Thanks.
Place yeast, sugar and water in large bowl or food processor and allow mixture to become bubbly.
Mix in 1 T butter, salt, and 2 cups of flour.
Add one tablespoon of the fresh chopped rosemary.
Knead for about 10 minutes by hand or in food processor about 5 minutes until smooth and elastic.
Add more flour if necessary.
Oil a bowl, put dough in it and cover with a towel.
Let dough rise in a warm place for one hour until doubled.
Punch down dough and divide in half.
Let dough rest about 5 minutes.
Spray baking pan or cookie sheet with cooking spray.
Shape the dough into 2 small rounded oval loaves.
Sprinkle remaining 1 Tablespoon of rosemary over the loaves and press lightly into the surface.
Let loaves rise again until doubled, about 45 minutes.
Preheat oven to 375°F.
Bake for 15 to 20 minutes, until lightly browned.
Carefully remove from oven, brush with remaining butter (and salt if desired.).