Romano's Macaroni Grill Pasta Di Pollo Al Sugo Bianco
jdgdab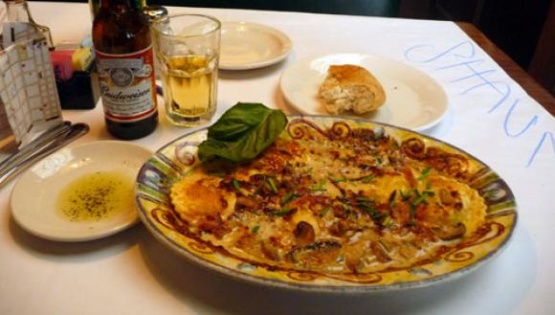 If you've eaten at the Macaroni Grill they are wonderfully consistent with creamy and tasteful sauces. Hope you enjoy!

I make this dish all the time, it is my favorite. I always added extra asiago at Macaroni Grill, so a little extra makes it just a little bit better.
To Make the Sauce: Heat cream to very hot and just bubbly (but not a boil).
Add chicken base and cheese.
Stir constantly with a wire whip and bring temperature back to just bubbly.
Dissolve cornstarch in the cold water and add to sauce.
Bring to a slow simmer to cook out starch.
Transfer sauce to a container, cover and refrigerate until needed.
To Make the Pasta Dish: Saute red onion in butter for a few seconds then add pancetta and garlic.
Add chicken, green onions and pasta.
Deglaze the pan with the cream.
Add asiago cream sauce.
Heat thoroughly.
Garnish with parsley and serve.