Junebug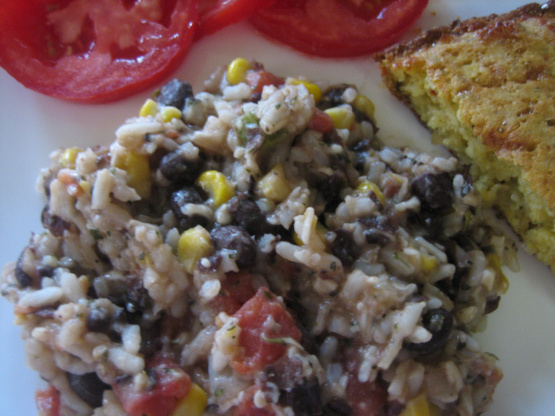 This is a quick and easy dish for a busy weeknight meal. Serve with a crisp side salad, corn bread, green onion and jalapeno peppers for a complete vegetarian meal. I usually cook brown rice and freeze in 2 to 2 1/2 cup bags for later use. If your rice is frozen just pop it into the microwave for a minute or 2 and then add to the bean mixture.

Paula--exactly as promised--quick, easy and delicious--and healthy. What more could one ask? I loved the fact the vegetables maintained a certain level of crispiness which was a great foil for the velvety texture of the beans and the smoothness of the rice (I did use white rice which I cooked in a mixture of water and homemade stock). In addition, this is pretty to look at--the beans, the herbs, the peppers--great colors. Thanks, Paula!
Sauté the garlic, onion, carrot, bell pepper and celery in oil until tender.
Add the chopped cilantro, basil and oregano.
Stir in tomatoes and drained beans; add cooked rice and Parmesan cheese tossing all together.
Heat through, adjust salt and pepper to taste.
Garnish with additional cilantro if desired.