Romanian Cozonac or Colac - a Christmas Bread
madmax08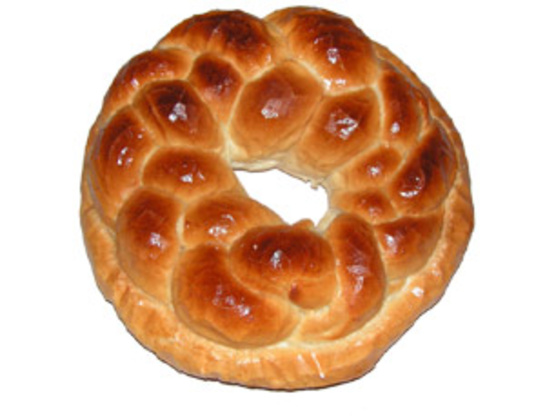 At Christmas time Romanian mothers readied the dough for baking these delicious breads with a variety of fillings. The smells of Cozonac baking would stir my senses. As a little girl, I knew there would be merriment and lots of good food. On Christmas Eve, relatives and their friends with musical instruments moved from house to house in the large Romanian community where I grew up. They would serenade us with Romanian Christmas songs and my mother would lay out Cozonac, Placinta with apples or sweetened cottage cheese, yeast doughnuts with lemon curd filling, and other lovely Old World style baking. There would be fresh sarmale (cabbage rolls), mititea, (sausage), pickled cucumbers, liquors and liqueurs, and home made wine. If families could afford it, money was also given to the carollers which would be divided between them at the end of their carolling. The feast was the carollers' reward for bringing joy in our homes, and was my signal that Mosu Craciun (Father Christmas) was about to arrive. The carollers moved throughout the Romanian community all night, during Christmas Eve, until dawn. I would sneak out of bed to watch the muscicians and listen to the carols. When they were gone I was sent to my bed, but quietly sneaked a peek to watch my parents put out the few toys for the youngest children and stockings filled with fruit nuts and cookies for the elders, and perhaps new mittens and socks. I was the eldest girl. There are many variations of fillings for the Cozonac. The basic dough does not vary much.
Preheat oven to 350°F.
For the Dough: Heat the milk to lukewarm.
In a separate bowl, crumble yeast.
Add 2 tsp sugar, 2 tbsp milk; set aside.
In a large mixing bowl, place the 4 cups flour.
To the lukewarm milk, add 3 Tbsp sugar, 1 tsp salt, the melted butter, lightly beaten eggs, (and optional food colouring).
Add yeast mixture to remaining milk.
Beat all with with rotary beater until thoroughly blended.
Pour mixture over flour and work in, with a wooden spoon, until all flour has mixed well with milk mixture.
Now, knead with hands for about 5 minutes or until dough will not stick too your hands.
Cover with clean tea towel and place in warm spot. Allow dough to rise until double in size.
Punch down and knead again for 2 minutes.
Let rise again.
Roll out dough and fill with your favourite filling.
Cheese Filling: Cream cheese well, with fork.
Add cornstarch and egg yolks and mix well.
Add sour cream, 1 or 2 tbsp at a time.
Work quickly and mix thoroughly.
Add 4 tbsp sugar and flavouring.
Spread over the dough, and bake in a moderate oven (350°F) until done.
After 45 minutes, check for doneness.