Prep 20 mins
Cook 30 mins

A must try for your bumper crop of tomatoes. Courtesy of Giada De Laurentiis.
Directions
Cook the balsamic vinegar in a small saucepan over low heat until thick, syrupy, and measuring 1/4 cup, about 20 minutes. Set aside to cool.
Combine the olives, parsley, anchovies, capers, garlic, basil, pepper, and olive oil in a small bowl and toss to combine.
To serve, slice the tomatoes into 1/4-inch thick rounds and place, slightly overlapping, on a serving plate. Spoon the olive and parsley mixture over the tomatoes. Drizzle the reduced balsamic over the salad and serve.
Most Helpful
This was so different and what flavour.I could eat that olive mixure on a cracker,on a toast or with a spoon right out of the bowl. I already had balsamic glaze that I bought so I didn't have to redude my vinegar.I also added the glaze to the olive mixture and it was superb! This beats tapenade.I made it for WT4. Thanks for sharing.' Rita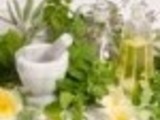 This was simply superb! So much greater than the sum of its parts, this salad literally stole the show at lunch today. I made a couple of different kinds of panini to serve with the salad and we were more than happy. Even my kids ate the tomatoes with all the 'weird' (but tasty) stuff on them. Of course, it helped that I had good tomatoes from Crete. ;-)

This is so yummy! Dh wanted something more than tomatoes, so after I made the recipe for ZWT4, I simply put the tomatoes on lettuce and used the olive spread with the basalmic reduction as a dressing.