teresas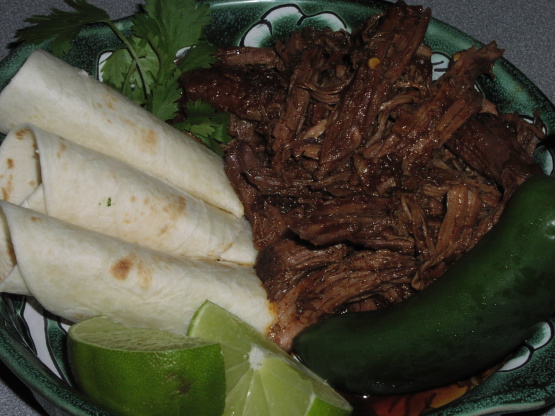 I got this delicious and tasty and easy recipe from the Abilene Chuckwagon Cook-Off. Romaldo was the "cookie" from one of the large ranches in that area. I have used this recipe so often, it is one of my favorite tried and true. It re-heats well and freezes very well.

I am from the Philippines and currently going out with a hispanic man. I don't know any hispanic recipes at all so I thought I try some recipes from the web and found this one. It was very good, delicious, tasty. I felt so proud of myself seeing his whole family were eating the carnitas. It was just a matter of minutes when they finished all 4 pound of my homemade carnitas. Thank you very much. I owe it all to you. Rhea Tenorio
Place roast on heavy duty foil.
Combine all the rest of the ingredients, and spread on top of the roast.
Seal foil securely and place in roasting pan.
Bake at 300 degrees F for 3-1/2 to 4 hours (meat should be so tender it falls apart).
Use 2 forks and shred roast while still warm.
For each serving, spoon meat on a hot flour tortilla.
Serve with guacamole and salsa and extra onions (opt).