Romaine Salad With Provolone and Prosciutto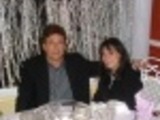 This is the best accompaniment to a heavy pasta meal. The only way I can describe the dressing is to say it tastes "bright and light". If there is any leftover after a meal is over, there isn't for long, because I always end up picking at it until it's gone!
Directions
Grate zest from 1 lemon into salad bowl.
Squeeze juice from lemons into bowl. You should have at least 4 tablespoons.
Whisk in olive oil, salt, pepper, and sugar until well blended.
Add romaine, onion, peppers, proscuitto, provolone, and olives.
Toss well until thoroughly combined.
Most Helpful
Great salad! I didn't have lemon so used lime juice and zest instead. It was good but I will try lemon next time. I loved that the dressing is made right in the bowl - fresh every time and less clean up! Thanks for sharing!

Very tasty salad! Loved everything about this and the dressing is delicious. Thanks for sharing!
My neighbor made Italian Wedding Soup last night, and I brought this salad to accompany it. The comments I heard were "different", "refreshing", "light", and I will add excellent! I had to omit the red onion because I did not have one on hand, and used fresh mozzarella instead of the provolone because I needed to use it. I also tossed in a few garlic croutons to add the crunch lost from omitting the onion. Overall, this was excellent and I will definitely be making it again! Thanks JackieOhNo for another great recipe!