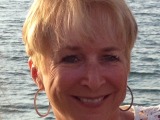 Super-simple and sooooo good. Perfect for that sweet/salty craving. And only 3 ingredients! From glam.com. Try these at your next girls' night!
30 Rolo chocolates
30 small pretzels (not sticks, but the flat, figure-8 shaped kind)
Directions
Preheat oven to 350 degrees.
Unwrap your Rolos. Place the pretzels on a baking sheet and top each one with a Rolo candy.
Bake in oven for 3-5 minutes, until the chocolate just begins to melt. The Rolo should be soft but not completely melted.
Remove from oven, place on cooling rack and immediately squish the chocolate with a nut. Watch the caramel ooze out. YUM.
Reviews
Most Helpful
The kids enjoyed making them and everyone enjoyed eating them!

Great little treat. The kids loved making them.

Boy these are addictive and ridiculously easy to make. I used them on my Christmas tray this year. I found mine began to soften in the often at between 2 and 3 minutes, no longer. Thanks Epi Curious.