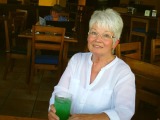 25 pieces Rolo chocolates
25 miniature pretzel twists
25 pieces candy corn
Directions
Heat oven to 225 degrees F.
Place pretzels on baking sheet.
top each pretzel with a rolo.
place in oven for about 5 minutes.
remove from oven and top with candy corn, pressing down slightly.
I have also topped with another pretzel to make a *sandwich*.
Most Helpful
Yum! We made these for Christmas, replacing the candy corn with a red or green M&M. Easy and delicious. Thanks for posting.
This candy was such a wonderful addition to our Thanksgiving dessert table. They were very quickly gobbled up. Get it? Gobbled? Thanksgiving turkey? Haha, anyway, I made these using gluten free pretzels, and instead of candy corn, I made a batch of recipe #12761 and squished a spiced pecan onto each Rolo. The combo of the sugary nut, the buttery caramel, the comforting chocolate, and the salty pretzel was the perfect end to our meal. Definitely something to be thankful for! Thank you for posting!

These are very addicting. I made these with m & m's on the tops instead of candy corn. Also, I have pressed a half of a pecan in the tops.