Pismo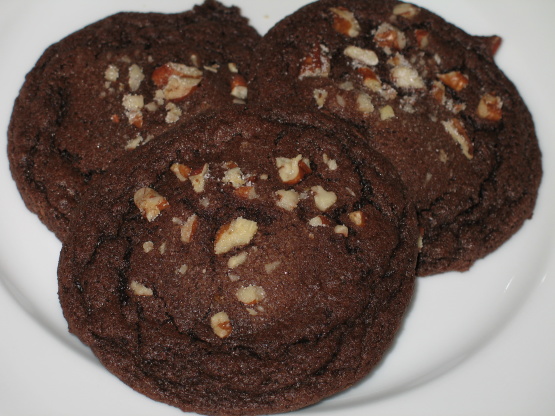 I'm not sure what these were originally called, but the recipe came from a Pillsbury Bakeoff cookbook. These are my favorite cookies and I get requests for them all the time. They are a chocolate cookie topped with sugar and pecans and when you bite into them you get a delicious caramel surprise!

I made these cookies a long time ago from the pillsbury recipe. The cookies were great and I really liked them. I think they were called turtle cookies? Over the course of time and events I had lost my recipe. I am so glad to find it again here! Thanks for posting!
Heat oven to 375. In small bowl combine flour, cocoa and baking soda. Mix Well.
In large bowl beat 1 cup sugar with brown sugar and margarine until light and fluffy.
Add vanilla and eggs and beat well. Add flour mixture and blend.
For each cookie, shape about 1 tablespoon dough around 1 Rolo, covering compleletly. If dough is too sticky to handle easily, refrigerate until desired firmness is achieved.
In a small bowl combine nuts and 1 tablespoons of sugar. Press 1 side of each ball into the nut mixture and place, nut side up, two inches apart on ungreased baking sheet.
Bake for 7-10 minutes or until set and slightly cracked. Cool 2 minutes on baking sheet and then transfer to wax paper to cool completely. Do not cool on wire rack or caramel centers will fall through.