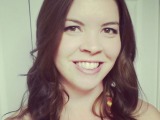 I'm not sure what these were originally called, but the recipe came from a Pillsbury Bakeoff cookbook. These are my favorite cookies and I get requests for them all the time. They are a chocolate cookie topped with sugar and pecans and when you bite into them you get a delicious caramel surprise!
Directions
Heat oven to 375. In small bowl combine flour, cocoa and baking soda. Mix Well.
In large bowl beat 1 cup sugar with brown sugar and margarine until light and fluffy.
Add vanilla and eggs and beat well. Add flour mixture and blend.
For each cookie, shape about 1 tablespoon dough around 1 Rolo, covering compleletly. If dough is too sticky to handle easily, refrigerate until desired firmness is achieved.
In a small bowl combine nuts and 1 tablespoons of sugar. Press 1 side of each ball into the nut mixture and place, nut side up, two inches apart on ungreased baking sheet.
Bake for 7-10 minutes or until set and slightly cracked. Cool 2 minutes on baking sheet and then transfer to wax paper to cool completely. Do not cool on wire rack or caramel centers will fall through.
Reviews
Most Helpful
I made these cookies a long time ago from the pillsbury recipe. The cookies were great and I really liked them. I think they were called turtle cookies? Over the course of time and events I had lost my recipe. I am so glad to find it again here! Thanks for posting!

I made a double batch of these for the teachers at school. They were delicious right out of the oven, all gooey and yummy! They weren't quite as good after they cooled. A nice change up from your typical cookie. I have also made a similar recipe with peanut butter in the middle and I've heard about making these with sugar cookie dough and sprinkling with cinnamon and sugar. Overall, a nice cookie. Thanks!
I made these for the holidays and they were a big hit with everybody. I overcooked the first batch, it was hard to tell when done because of the dark color, so just pay attention to the time instead of trying to base it on the look! Second batch was perfect, and the surprise filling was loved by all!