twissis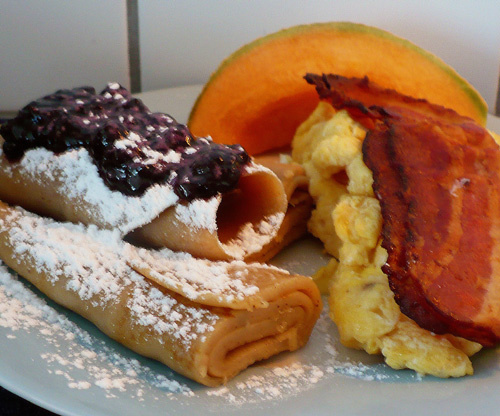 Recipe from TOH that I posting for ZWT 6. These are a crepe like pancake with a hint of lemon.

Made for the Goddesses of ZWT-9 plus my DH & his fishing buddy this morning B4 they left on a quest for fresh trout in the highlands. Our guest said they were the best Swedish pancakes he had eaten (w/o being told they were Swedish) & DH said: "These pancakes would be great w/my cereal in the mornings" - A none-too-subtle hint that he hoped the leftovers would freeze well & I will see if they do. I halved the recipe & it was plenty for 3 of us (w/extra). They were made as written, but I added a twist at the end w/a gingerbread flavor using Recipe #491474 by Debbwl (a pers fave). I left the final presentation choice to the guys & they preferred my SIL's homemade blueberry preserves w/a dusting of powd sugar. Very good & such an easy-fix! Thx for sharing this recipe w/us.
Combine 1/2 cup sugar and the lemon peel; set aside.
In a large bowl, combine the flour, salt and tablespoon sugar. Beat the eggs, milk and butter; stir into dry ingredients and mix well.
Pour batter by 1/2 cupfuls onto a lightly greased hot griddle; turn when set and lightly browned. Cook 1 minute longer.
Immediately sprinkle each pancake with lemon sugar mixture; roll up and keep warm. Top with sour cream and preserves.