Rolled Souffle With Shrimp Filling
Zurie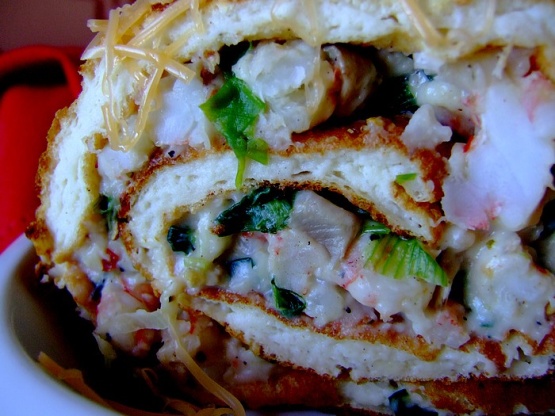 From the Earl Peyroux cookbook again. This one sounds really yummy!

Top Review by Zurie
MADE FOR ZWT4. First off: this is the kind of recipe I like to make. And it has the potential to become a great recipe! But as it stands, it needs editing. The amounts given are all correct, and made the right consistency white sauce. But I found the instructions confusing -- the filling should be made before one starts on the souffle roll itself. The flour should be added to the milk (for the souffle sauce), not the other way round, which easily causes lumps. Also, one should let the white sauce cool a little before beating in the 4 egg yolks, or the yolks might curdle. Then, there should be a warning to drain the shrimps after cooking them in the wine! A novice cook will come unstuck here: I drained off 1 1/4 cups fluid from the wine and the shrimps! Only then could the bechamel sauce be added, to make the filling. Also, tasting as I cooked, I realised this recipe is very bland. I added a seasoned salt containing finely crushed lime rind, coriander seeds and hot pepper. (I should have thought of adding fish sauce too). This recipe uses a lot of bechamel sauce, and I could not face it on top of the roll as well, so only used 1 cup for the filling as instructed, and made do with grated cheddar on top. I do feel this recipe can be re-worked and be absolutely 5 star!! Thank you, we liked it, but with a few changes we could love it!!
Line a jelly roll pan with waxed paper, and butter and flour it.
In a saucepan, add milk to flour, and cook while stirring until thick.
Beat in egg yolks, one at a time.
Add salt, pepper, and nutmeg.
Beat egg whites, and then fold flour mixture into whites.
Add cheese, and pour mixture onto jelly roll pan.
Bake at 375 degrees for 18-20 minutes.
Turn souffle out onto dampened kitchen towel and remove waxed paper.
Spread souffle with shrimp filling and roll up jelly roll fashion.
Place on serving dish and garnish with remaining Bechamel sauce.
Shrimp Filling:.
Saute green onions in butter.
Add the wine and shrimp and cook 5 minutes.
Add salt, pepper, and mushrooms and simmer 5 minutes more.
Blend in 1 cup Bechamel sauce.
Bechamel Sauce:.
Melt butter in heavy saucepan.
Add flour and blend with a whisk.
Gradually add milk while whisking, and cook until sauce has thickened.
Add seasonings.