Dorel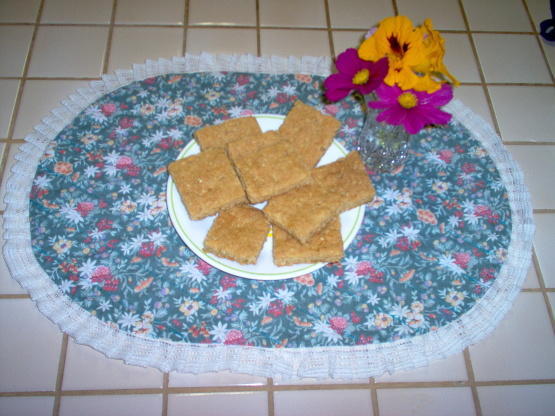 Another recipe from an old 1960's cookbook. I've been making these a couple times a year for 40 years. They are crispy and butter flavoured and so good. Use quick cooking oats. I use the dough hook to mix when it gets too hard for the K beater. Instead of rolling out I find it easier to pat into a 9"x 13" cookie sheet with 1/2" in sides. I use parchment paper. Score into about 1 1/2" pieces and bake. When baked cut along score lines and you have nice square cut cookies.

These were simple and delicious. I added a drop of almond essence and rolled the cookies into balls that I then flattened with a fork. Everyone loved them and they were greated as part of a packed school lunch. Thanks so much for such a great recipe.
Sift flour with baking powder and salt.
Cream butter and gradually add sugars, vanilla and oats.
Add sifted mixture to make a stiff dough.
Turn onto floured board and knead dough lightly to blend thoroughly.
Pat or roll into 9"X 12" rectangle and cut into 1 1/2" squares.
Bake at 350°F for about 20-25 minutes until golden.