I used this recipe for Christmas this year and it was a good basic recipe. I really liked the hint of nutmeg in these. I will use these every year for decorating cookies. We added frosting to some and non-perils to the other half, both were good.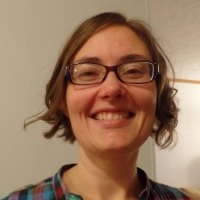 These cookies were not good for us. They were somewhat soft and edible, but bland and spread way too much. I measured against the cookie cutter I used and the cut-outs gained a 1/4" all the way around for a half inch total of spread. All edges ended up rounded. I made a half batch and got twenty 3.5-inch cookies and another nine 2-inch cookies. I followed the recipe, other than halving it, but although the dough was sticky, I did not add additional flour since the recipe already called for so much and I was afraid of getting a tough, hard cookie. Instead, I rolled the dough out between two sheets of parchment paper and chilled about 15 minutes until the parchment paper could be easily removed to use the cookie cutters. At that point, the dough was easy to work with. I did frost the cookies, but it was not enough to redeem the blandness of the cookie.
Cream butter and sugar.
Add eggs and beat util fluffy.
Stir together dry ingredients.
Add to egg mixture alternately with the milk.
If dough is too sticky, add flour to handle.
Roll 1/4 inch thick on well floured pastry cloth.
Cut and place boke-on decorations on cookies.
Bake on ungreased baking sheet in moderate oven at 375 for 8 minutes.
If frosting cookies, allow to cool then frost.