Roll Kuchen (From the Mennonite Treasury of Recipes)
Pamela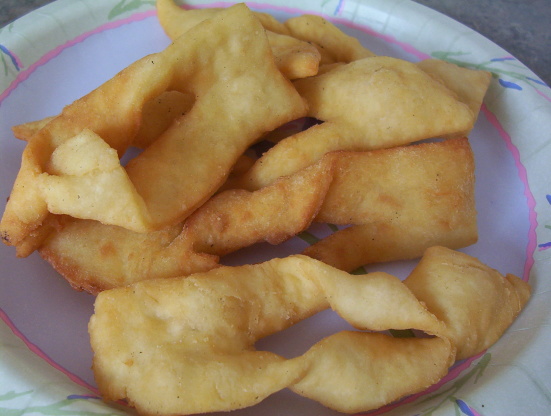 Oh, the memories of this recipe! This is a favourite Mennonite Tradition for a summer meal. This is my mom's favourite recipe for Roll Kuchen. I remember fondly the time my parent's spent making this and how they doubled and tripled the recipe for family gatherings. To non-Mennonites the idea of having these with watermelon strikes them as very strange--Watermelon and doughnuts??!!?? But for me and my family it is a food that we enjoy and look forward to having! Cook time is per batch of 4-6 roll kuchen.

I am 71 years old, and as far back as I can remember, we have used this recipe with watermelon. We didn't eat watermelon without it! It was always salted, never used with sugar or jam. I guess this was our family tradition. This is a wonderful recipe! Thanks for sharing!! I tried this again since I wrote this review the first time. Made a new discovery! We had a few left over which does not happen very often. I froze them. Today we Bar B Que'd and I decided to try some of the frozen ones. I thawed them to room temperature and then brushed them with Bar B Que sauce! Wow! I put them on the grill away from the fire and they took on the smoke taste along with the sauce. Talk about bread with Bar B Que!! This is fantastic!!! Again, thanks for posting this!
Beat eggs well.
Put into a 1 cup measuring cup and fill with milk. (This may end up being more or less than the 3/4 cup listed in the ingredients.)
Add to remaining ingredients and mix to combine.
Roll out very thin and cut into strips.
Cut again so that pieces are approximately 1 inch long by 3 inches wide.
Cut a slit in the middle and pull one end through to knot it.
Fry four to six at a time, in deep hot fat until golden brown.
Serve with Watermelon!
A Mennonite summer tradition!