Rogene's Buttermilk Pancakes

This are a breakfast staple in the Hill households ... so good. They make a nice thick pancake but if you want them a bit thinner just add more buttermilk. Basic instructions are included - I'm sure everyone knows how to cook a pancake - if not have toast with jelly. ;)
Directions
Place all ingredients in a blender and whip.
Start with a medium hot frying pan. (Med hot means when you drop a few drops of water on griddle it should "dance" for a few seconds before evaporating.) Take pan off from heat source and spray with cooking spray, put back on heat, pour about a 1/4 to 1/2 cup of batter into pan. If the batter is thick just spread the top around to desired size and thickness with back of spoon. Cook until edges and/or top of pancake begins to look dry and flip. Cook on second side until golden brown.
Reviews
Most Helpful
These were tasty and flavorful while not being too sweet. I was a bit skeptical when I poured the batter, because it was quite thin. The pancakes cooked up quickly, though, and had a nice texture, even though they were not thick and fluffy. I did notice some flour had stuck to the sides of the blender, so next time I would scrape the sides down and blend again to thoroughly incorporate all the ingredients. The flavor was really nice. I ended up with 6 medium pancakes. I will be making these again. Made for Every Day is a Holiday Tag Game.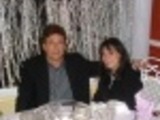 We have never met a buttermilk pancake that we didn't like and these are no exception. Easy to make for a filling weekday breakfast. Made for PRMR Holiday Game.

These were so good, I'm going to stop buying pancake mix and make these instead. We really liked them alot. I did have to add an extra 1/2 cup of flour because the batter was very thin. I don't know if it's supposed to be that way or not but I like a thick batter. Thanks, Hill Family! Made for 123 tag.