Rodbetor (Swedish Pickled Beets)
Rita1652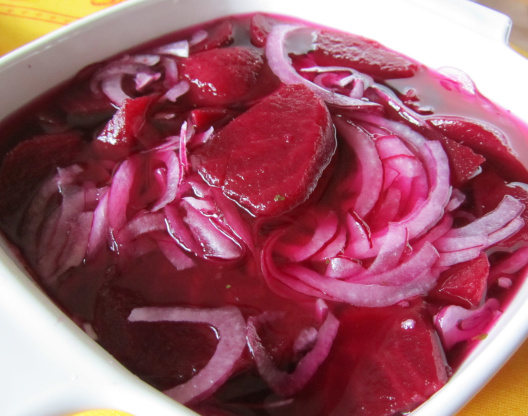 This is a very simple and basic recipe for pickled beets. I prefer mine spiced up a bit (I throw in 1/2 a cinnamon stick and 4 whole cloves), but this was nice for a change. Not a canning recipe, so easy to throw together for a BBQ! Time does not include 2 hours resting/chilling time - which is truly all that is required for the flavors to come through! NOTE: I made this last evening with one 15oz can of sliced beets, cut them into strips, then halved the amount of vinegar mixture - it came together super quick and was delicious. Recipe from whats4eats.com.
Bring the vinegar, water, sugar, salt and pepper to a boil in a non-reactive saucepan. Reduce heat and simmer for about 5 minutes to completely dissolve sugar.
Place the beets in a stainless steel or glass bowl. Pour hot vinegar mixture over the beets, cover and chill for at least 2 hours before serving.