Rocky Road Confetti Squares
Chef Dee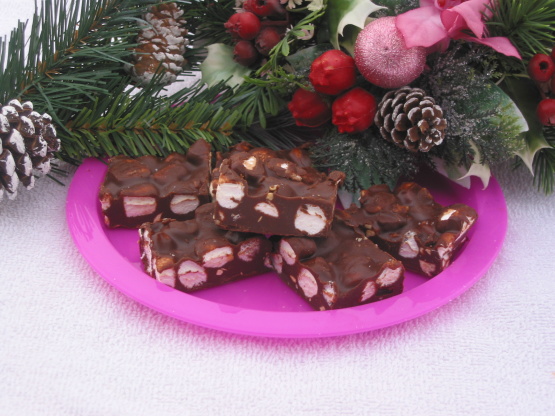 Colour for your Christmas tray and your allof your kid's favourite snack ingredients in one easy to make square.

This was very easy to make and has a nice flavor. Next time I plan to use a smaller pan to get a thicker candy. I used colored marshmallows & wouldn't again other than special events (halloween). Too many people asked what the colored bits were. I think this would have flown off of my candy tray with white marshmallows because they loved it after they tried it. It is creamy & a little softer in texture than fudge. Thank you for sharing the recipe!
In a large pot, melt margarine over med. low heat.
Add peanut butter, stir until melted.
Add chocolate chips, stir until smooth.
Remove from heat.
DON'T stir in the marshmallows until you can hold your hand on the bottom of the pot.
Spoon into a Pam sprayed 9x13 pan.
Chill, then slice 6 down and 10 across.