guacgurl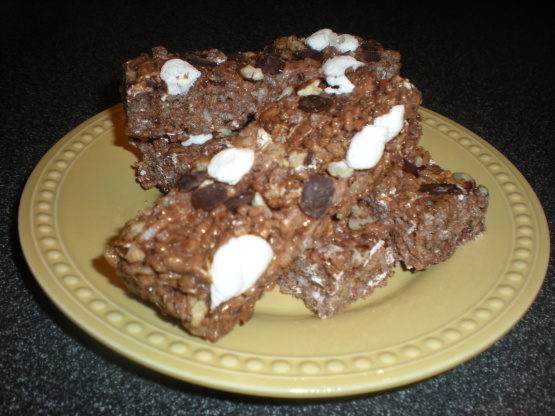 This is my own original recipe that I created after craving something sweet that wouldn't blow my points for the day. They taste great and you can't even tell there's healthy ingredients lurking in there! NOTE: I used unsweetened carob chips but was unable to locate this ingredient while posting.
Spray an 8" x 8" square pan with 4 sprays non-stick cooking spray; set aside.
Combine cereal, oats, textured vegetable protein and flax seed in a large bowl; set aside.
In large pot over medium heat, melt 3 cups of mini marshmallows with the olive oil, stirring constantly.
Add cocoa powder and salt; mix well.
Add vanilla extract; mix well.
Turn off heat and add cereal mixture; stir until well combined.
Put half of the cereal mixture in prepared pan; sprinkle with half of the nuts, half of the carob chips and half of the chopped marshmallows, pressing cereal mixture firmly down into pan.
Repeat previous step with remaining ingredients. Chill until firm, remove from pan and cut into 12 bars. Store in ziplock baggie at room temperature.