PetsRus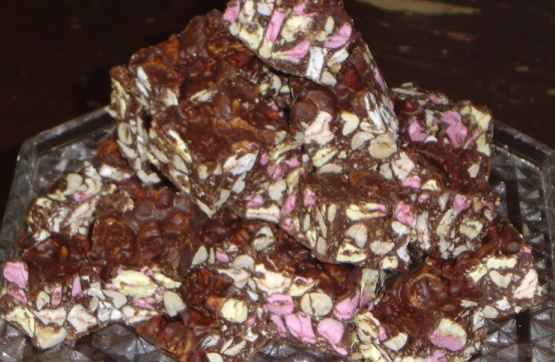 Found this years ago in a magazine, I have added the coconut to it so if you are not keen on that ingredient just leave it out. In The Netherlands I have a hard time finding mini marshmallows so I cut up large ones. Chilling time not included.

This turned out great. Used these as Christmas gifts, and they were well received. They are super easy to make, look really nice and taste fantastic. The better the quality chocolate, the better the finished product rule really applies here, these can be really special with a little extra expense.
Melt the chocolate in the top of a double boiler.
Line an 8x8 tin with foil (you can butter one but this is easy to lift out and peel away).
In a large bowl mix the marshmallows, nuts and the coconut.
Add the melted chocolate, mix well.
Spread into the prepared tin.
Chill, when firm cut into small pieces.