Rocky Mountian Ice Box Rolls
Bayhill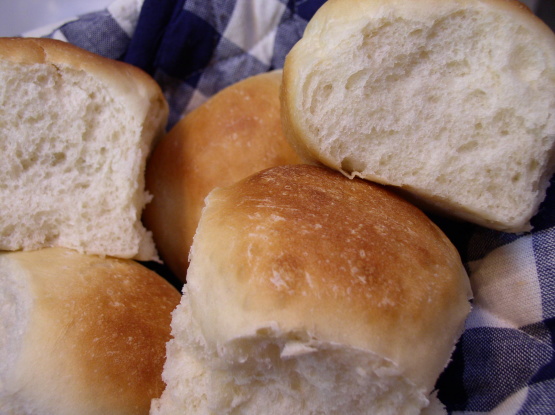 this recipe was on an insert in a bag of potatoes

I love these rolls! They are really light and taste delicious. I used instant potatoes which made them even easier. I used a hand mixer with dough hooks and had no problem mixing. The first time I made these, I made one 9x13 pan immediately. I made another 9x13 pan a couple of days later. Two days after that I used the rest of the dough for pizza crust! I made another batch for a dinner at church this past Sunday. I ended up with 50 rolls and it wasn't nearly enough. They were a huge hit! Thanks for the great recipe!
Beat sugar, egg and shortening.
Add potatoes and hot water, salt and a little flour.
Then add yeast and rest of flour.
Let rise until doubled in size, punch down.
The dough then can be refrigerated and used as needed.
To bake, shape dough into rolls as you desire. Let rise and bake in a 350 degree oven for 20-25 minutes or until golden brown.