Stacky5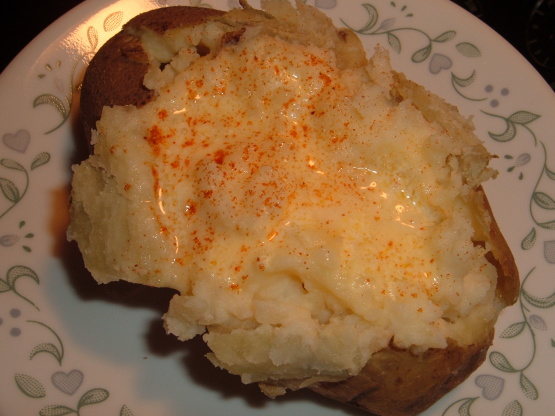 I'm not sure why these potatoes are called Rocky Mountain Potatoes, but I do know they couldn't be simpler and they are the closest a baked potato will ever get to mashed without taking it's jacket off. They're very good.

OUTSTANDING! MarieAlice, I can't believe this recipe is SO easy yet so satisfying! I thank you SO MUCH for this...My kids all gave it 2 thumbs up, and they had no clue how easy this was! Beautiful recipe! One of my all-time favorites, and a true keeper in THIS house from now on! Thank you for sharing....:)
Pierce the well-scrubbed potato with the tip of a knife or the tines of a fork.
Bake at 350*F until done, about 1 hour. The potato will feel soft when it's squeezed.
Cut a wide cross in the baked potato, and spread the peel back a little.
Insert a fork into the opening and mash the potatoe slightly. Pour in the milk and poke the butter well into the potato.
Sprinkle with a little bit of salt and a dash of paprika.