Rocky Mountain Mini Cheesecakes (Light)
Redsie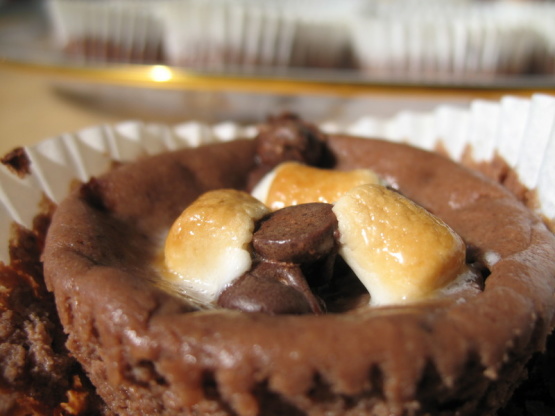 Elegant way to serve cheesecakes - makes 12 beautiful little mini cheesecakes! Delicious and low fat! You can't ask for anything more!! You can replace the ricotta by cottage cheese. If you only have large marshmallows, use scissors to cut into smaller pieces. Adapted from a R. Reisman recipe.

Redsie you'd have been somewhat dismayed at my presentation :) Too flat strap to do either the marshmellows or the choc chips AND I didn't have little patty cups so just cut up baking paper.. looked really rustic! Tasted fantastic..might just go sneak another from the fridge I think...
Preheat oven to 350°F (175°C). Line a 12-cup muffin tin with paper muffin liners.
In a food processor, combine ricotta, cream cheese, sour cream, egg, sugar, cocoa, and flour; purée until smooth. Divide among prepared muffin cups.
Set the muffin tin in a larger pan. Pour enough hot water into the pan to come halfway up the sides of the muffin cups. (This keeps the cheesecakes moist.).
Bake in the centre of the oven for 20 minutes. Sprinkle marshmallows and chocolate chips evenly over cheesecakes. Bake for 5 minutes longer, or until marshmallows and chocolate chips begin to melt.
Remove the muffin tin from its water bath. Let the tin cool on a wire rack. Chill before serving.