Rocky Mountain Campfire Chili
loof751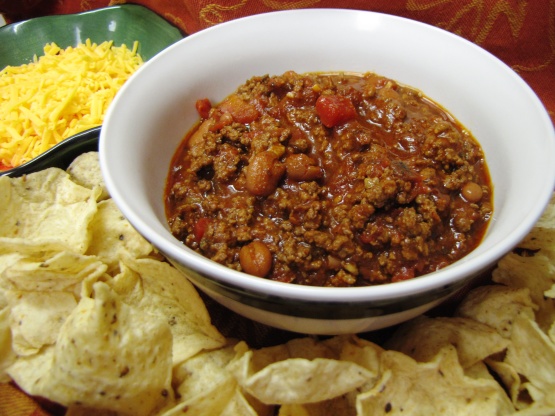 From Best of the Best from America Cookbook by Gwen McKee & Barbara Moseley, c. 2005.

Great chili! We love chili and make it often and this is another terrific recipe. I left out the onions, otherwise made as specified, serving with shredded cheddar and sour cream. The long cook time allows this chili to cook down to a thick and flavorful dish - thanks for sharing the recipe!
Brown mean with onions and garlic in small amount of oil. Add tomatoes, tomato paste, chilies, jalapenos, seasonings, beef broth, and water. Bring mixture to a boil. Reduce heat to low and cook 4-5 hours, stirring occasionally. Adjust seasonings, if necessary. Add beans during last 30 minutes of cooking. Serve hot in bowls with an assortment of condiments such as grated cheeses, sliced olives, pico de gallo, chopped onions, etc.