Rocky Mountain Brisket with Barbecue Sauce
Chill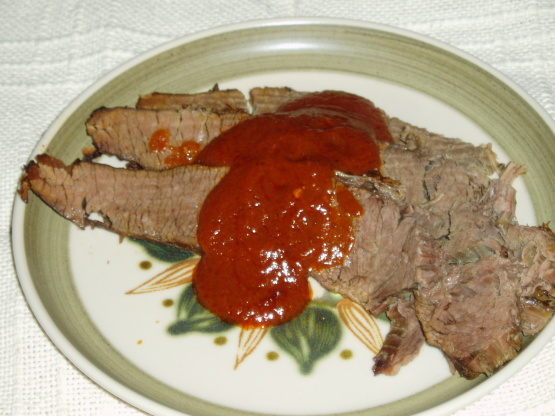 This is good by itself or served on onion rolls.
This is just a " Out Of This World Recipe"!!!!! I agree with Chill, EVERYONE needs to try this recipe! I made this for Superbowl Sunday and had my in-laws over and they said that was the best they ever had! We all loved it! I doubled the recipe since my brisket was a tad over 8lbs, and followed your recipe to a T. I loved the barbecue sauce so much I think I will be making that barbecue sauce to put on other stuff as well!! Yummmy!!! Thanks so so much Keen5
Combine salt, pepper, chili powder and bay leaves.
Rub meat completely with liquid Smoke.
Place meat, fat side up, in a large roasting pan.
Sprinkle dry seasoning mixture on top.
Cover tightly.
Bake for 3 1/2 to 4 hours at 325 degrees.
Scrape seasoning off meat and cut in very thin slices across the grain.
Serve with barbecue sauce.
To make sauce, combine all ingredients.
Bring to a boil, stirring occasionally.
Cook for 10 minutes.
Serve with sliced brisket.