teresas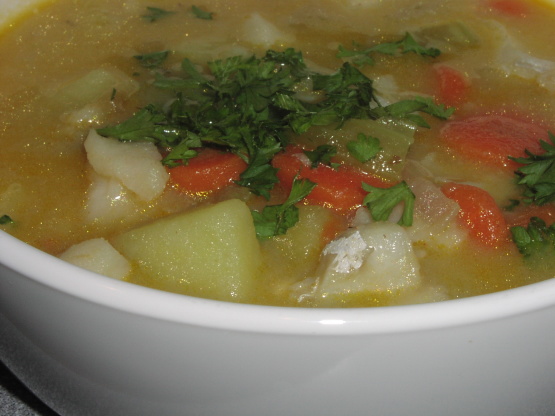 This is a low fat and healthy chowder that I'm very happy to have at pretty much any time. If you like clam chowder but want less fat give this a try! I don't put the paprika into the pot because I like a white chowder, I sprinkle some on top at serving.

Shorty after tagging this dish we found out that DH is allergic to milk. Well, milk is in this recipe so I made it with "rice milk" and we didn't even notice the difference. :) With that said the only thing this recipe seems to be "really" missing is salt. I used Johnny seafood seasoning salt. It made a huge difference. I also added more clam juice just to keep it from drying out because I cut the recipe down to serve two. OK there is more, I didn't remove the veggies, I just added the flour/milk mixture and it came out just fine. Thanks for posting.
Heat oil in a large saucepan. Add onion and celery and sauté about 3 minutes.
Add carrots, potatoes, thyme, paprika, salt (if using), and clam broth. Wrap peppercorns and bay leaves in cheese cloth. Add to pot. Bring to a boil, reduce heat, and simmer 15 minutes.
Add fish and simmer an additional 15 minutes, or until fish flakes easily and is opaque.
Remove fish and vegetables; break fish into chunks. Bring broth to a boil and continue boiling until volume is reduced to 1 cup. Remove bay leaves and peppercorns.
Shake flour and 1/2 cup low-fat (1%) milk in a container with a tight-fitting lid until smooth. Add to broth in saucepan with remaining milk. Cook over medium heat, stirring constantly, until mixture boils and is thickened.
Return vegetables and fish chunks to stock and heat thoroughly. Serve hot, sprinkled with chopped parsley.