teresas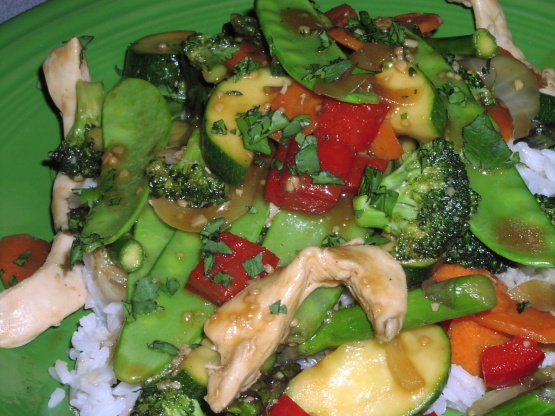 This is a recipe that I've developed over the years by adding a little of this and a little that until I had created what I call the perfect stir fry. My whole family enjoys this dish and It's one of my teenage daughter's favorites. Enjoy and feel free to tweak the amount of the sauce ingredients and vegetables to your liking. I use whatever vegetables I have on hand and eyeball the sauce ingredients. Don't be afraid of the oyster sauce. It is a must. It is what gives the authentic taste. Serve over steamed rice.
Separate broccoli florets and chop if necessary so that they are in bite size pieces.
Peel carrots and slice thinly at a diagonal angle.
Cut the ends of the onion. Run your knife into the first layer and peel away the skin. Set cut side of onion on cutting board, cut in half and then slice into vertical slices.
Cut the red bell pepper into 1 inch chunks.
Cut top 2/3 part of asparagus into 1 inch pieces. Do not include the bottom third of the asparagus as it is usually tough. Only use small sized aspargus. The thick is too tough to be enjoyable in a stir fry.
Cut zucchini in half lengthwise and then cut crosswise into 1/4" slices.
Pull the stem off of the snow peas and de-string them.
Cut chicken breasts in half lengthwise and then slice crosswise into very thin pieces.
Heat 2 TBS oil in a wok or deep frying pan over high heat.
Toss in chicken and cook, stirring constantly, until the edges start to turn opaque, about two minutes.
Add the onion and garlic and cook another minute. The chicken will still have a few areas of pink.
Add the vegetables except for the snow peas.
Add sauce ingredients (except sesame oil) and saute until tender crisp, about five minutes. Note: After you turn the stove off, the vegetables will continue to cook in the pan so don't overcook them at this step.
Add snow peas and 1 TBS sesame oil and stir fry a minute longer.
Serve over steamed rice. Don't forget to spoon some of the flavorful liquid that has accumulated at the bottom of the pan on the rice.
Garnish with roasted cashews and chopped cilantro.
Note: I toast my already roasted and salted cashews in the toaster oven for a couple of minutes to make them slightly more toasted. It gives the cashews a nuttier flavor. I think it makes all the difference in the world. If you try this, please watch the cashews closely as they tend to burn easily.