Rocket (Arugula), Pear and Walnut Salad
awalde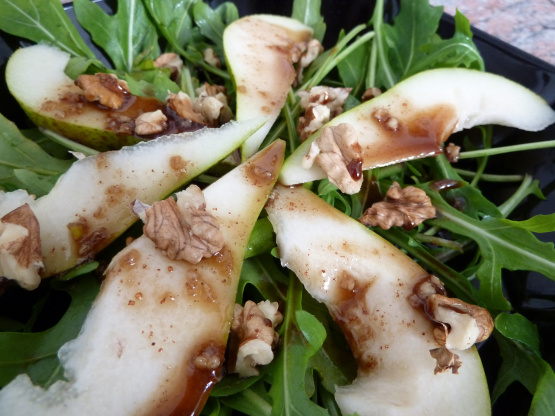 My son made this for a BBQ we had recently-I've made it twice since and think it's delicious.

Unfortunately, this sounded better than it tasted. Normally I'd try the recipe again just to make sure I hadn't made a mistake but this recipe is simple so I know no error was made. The flavors simply didn't meld for me.
Dressing:.
Place the molasses in a small bowl and add enough water to make it a thinner dressing consistency.
Add the cinnamon and garlic and set aside while you assemble the salad.
Salad:.
Lay the rocket leaves on a flat platter, then arrange the remaining ingredients over the top. Spoon the dressing over and serve.