Rock & Roll Jalapeno Macaroni and Cheese
gailanng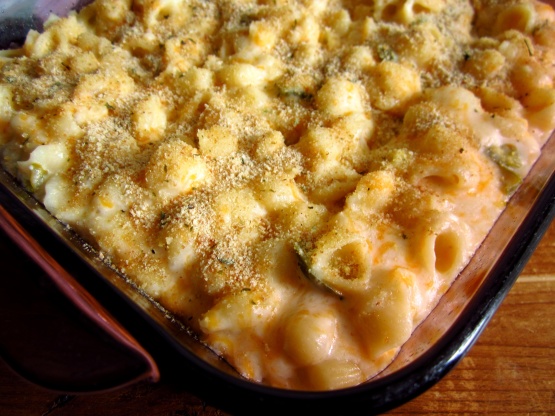 This zippy recipe is a BBQ favorite. It is served when we do catering and it seems to suit a wide variety of tastes.

I made this last night and our guests really enjoyed it. I made a couple changes: I doubled the cheese and used cheddar jack. I also bought four cheese & garlic croutons and crushed those for the topping as opposed to bread crumbs. DELICIOUS!!
In a saucepan melt butter, then add cream cheese and mix until smooth.
Add heavy cream and whisk it inches Then add jalapeño juice and whisk that in
Mix in Cheese, stir until cheese is completely melted.
Mix in Jalapeños, Salt, Cajun Seasoning, and Flour.
Continue whisking until all ingredients are completely mixed.
Grease a casserole dish and layer bottom of pan with half of the cooked macaroni.
Gently pour half the mixture over noodles.
Add another layer of noodles and cheese mixture.
Sprinkle top with bread crumbs. Cover with foil and bake at 350 for 30 minutes.
Uncover and bake for another 20 to 30 minutes or until golden brown on top.