Lois M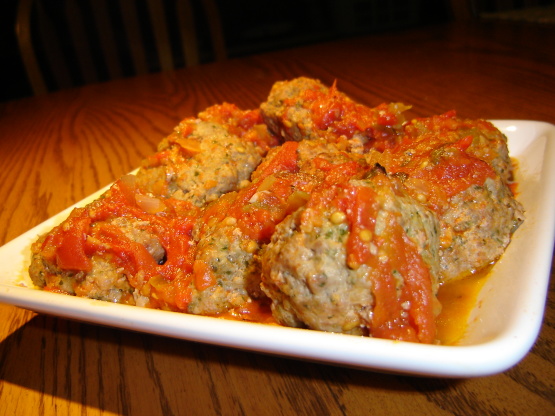 Recipe from Rocco DiSpirito. This recipe was originally posted by Mean Chef. This is an adopted recipe.
Stock mix: Place all ingredients in blender or food processor and puree.
In a large bowl, combine all ingredients (except olive oil) with stock and knead with both hands until mixture is uniform.
Do not overmix.
Put a little olive oil on hands and form mixture into approximately 2-ounce balls.
Pour about half an inch of extra virgin olive oil into a straight sided, wide saute pan and heat over medium-high flame.
Add the meatballs to the pan (working in batches if necessary) and brown meatballs, turning once.
You can also brown on a sheetpan in a 375 degree oven if you prefer.
Using a slotted spoon, remove the meatballs from the oil and place them into a saucepan of marinara (they should be submerged).
Simmer for 30 minutes, or until the meatballs are cooked through and tender.
Serve as is, or over spaghetti.