Rob's Mango and Chilli Chutney
robd16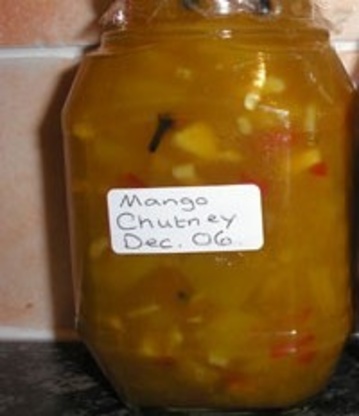 Adding 1 of the mangoes at the end, means that this chutney retains a superb fresh flavour. Can be left in the fridge for 1 month or preserved and canned for over 1 year (follow the canning notes link on home page) Lovely with Indian or Mexican food or to enhance a cooked meat and cheese platter. Add a spoonful to curries or mix with cold shredded chicken, curry powder and mayonnaise for a lovely baked potato or sandwich filling. Just make sure your mangoes are really ripe and soft.
In a scalded piece of muslin cloth tie up only the bay leaves, star anise, cinnamon, cardamom pods and peppercorns together and put into large heavy based pan. Alternatively if you don't have any muslin cloth you can fish the spices out later. Add everything else to the pan along with the spices reserving HALF of the mango, the lime juice and 1 third of the ginger.
Bring to the boil, reduce heat slightly and simmer until thick and almost no liquid remains.
Remove the spice bag or spices meant for the muslin spice bag, squeezing out any excess liquid.
By now you should be able to make a channel through the middle of the pan with a wooden spoon that is not immediately filled with excess liquid.
Add the reserved mango, ginger and lime juice, bring back to the boil and boil for 1 minute only.
Divide between sterilized jars, seal and leave to cool.
Best ever!