Rob's Favorite Creamed Dried Beef
CoffeeB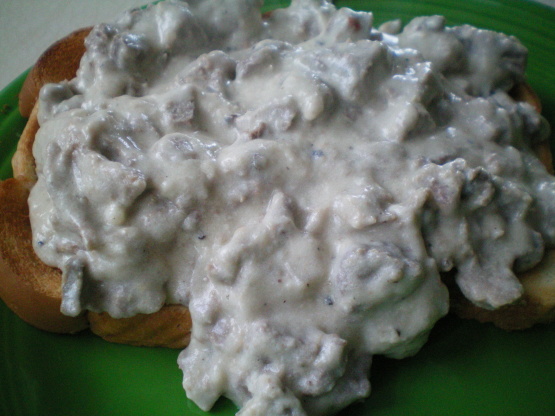 I prefer to use the dried beef from a local deli - ask to have it paper-thin sliced or chipped. I serve this over toasted wheat bread for my DH but it is also good served over a oven-baked russet potato. I found this recipe in the Fannie Farmer Cookbook.

This reminds me of what I used to eat as a kid. I had to add some extra salt (personal preference) and I used Budding Beef rather than the jar of beef from a pricing standpoint (probably the reason I had to add more salt). Thank you so much for sharing this! Oh -- also, for us, it made more than to top 4 pieces of regular toast...
Separate the slices of beef and set aside.
In a medium-sized saucepan, melt the butter over a medium high heat.
When the butter foams, sprinkle in the flour and whisk (yes use a whisk it works better) in the flour until very well blended.
Add the hot milk and cook over low heat, stirring very often with the whisk.
Slowly add the cream, continuing to stir constantly until the cream sauce is thickened (about 3-5 minutes).
Add the pepper and the dried beef and using a spoon mix well until heated through.
Serve over crisply toasted bread or hot baked potato.